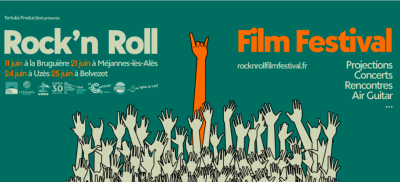 Rock'n Roll Film Festival
Pour sa seconde édition, le Rock 'n Roll Film Festival passe par 4 villes du Gard (dont Uzès) pour faire bouger les têtes.
Profitez du Rock'n Roll Film Festival depuis votre hôtel d'Uzès
Lancé l'an dernier (car annulé les années précédentes pour cause de COVID), le Rock'n Roll Film Festival est l'occasion de prouver que le rock est une musique "moderne et en mouvement" et d'en montrer quelques-uns de ses visages, à travers des concerts, des rencontres et, bien sûr, des concerts. Cette année, le festival se déroule du 11 au 25 Juin sur 4 lieux : La Bruguière, Méjannes-Lès-Alès, Uzès, Belvezet.
Votre hôtel au Pont du Gard au coeur du Rock'n Roll Film Festival
Plusieurs lieux pour des événements différents mais tournant tous autour du Rock'n Roll. A la Bruguière, une projection de "French Kiss Goes to Oulu", un concours de Air Guitar et le Concert de The Fabulous Sheep. A Méjanes-Lès-Alès, des concerts de DJ SUPER et de THE MUDDY SOUDS. A Uzès, la projection de "Good Morning England". Et à Belvezet, la Projection de "Little Bob Rockin' Class Hero", le concert de LA JUNGLE et l'animation musicale de DJ ROCKIN' CHAIR .

Plus d'infos : www.rocknrollfilmfestival.fr
From Saturday 11 June 2022 to Saturday 25 June 2022
@ La Bruguière, Méjannes, Uzès, Belvezet